How would you like to win an official replica England shirt?
We have ten up for grabs and winning them couldn't be easier. The fanatix app is the perfect accompaniment to the Euro 2012 thanks to its unrivalled match centre coverage, which includes goal alerts sent to your phone (if you wish), live scores and stats, as well as a Twitter tracker and private message service to keep in touch with your football loving friends. All this and much, much more. And it's free!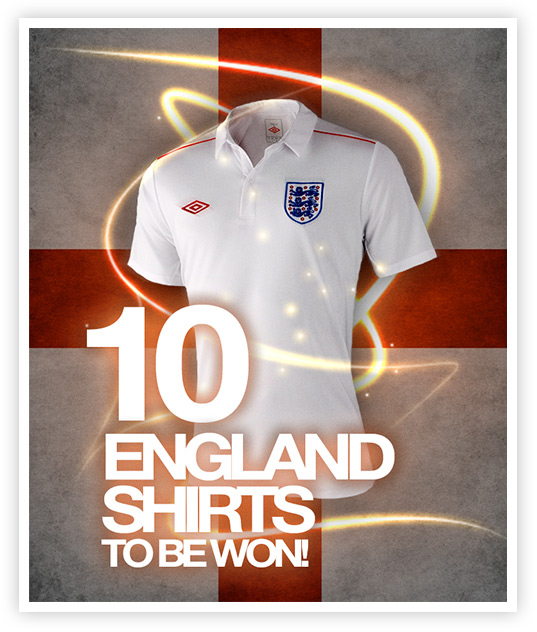 Would you like to win an official replica England shirt? We have ten to give away and all you have to do is follow the instructions below:
1) Download the free fanatix app for iPhone and iPod Touch or the fanatix for iPad app. If you already have either app then you can move directly to step two.
2) Check In to the England vs France game. To do this simply tap on the 'fixtures' tab and then the 'UEFA Euro 2012' button and then the 'Sweden v England' event where all you need to do is hit 'watching', 'attending' or 'tracking'. Simple as that.
We will then pick ten people at random from those who have checked in and they will win this marvellous prize. You have until the final whistle of the England v Sweden match to enter.

The Terms and Conditions:
1. The Sweden vs England check in competition and any other competitions run by fanatix/Caught Offside are not sponsored by Apple, nor is Apple involved in any way whatsoever. 
2. The 10 winners will be selected at random from all users who check in to the Sweden vs England Euro 2012 fixture on Friday 15th June on the all mobile/tablet apps powered by the fanatix platform (including the Caught Offside iphone and iPad apps), prior to the completion of the match.
3. The winner's shirt can only be delivered to a UK address.
4. fanatix cannot guarantee that the winners preferred size of shirt will be available.
5. The prize is non-refundable and non-transferable.
6. The winner will be notified via email within 7 days of the close of the competition and will have 14 days to respond (the claim period). In the event that fanatix does not hear back from the winner within the claim period, the competition is declared null and void.